Help
HelloCruise.co.uk makes it super easy to source which Cruise Agent is offering your chosen cruise at the best possible price. Here are a few simple instructions on how to use our website.
Start Your Cruise Enquiry
Firstly, if you know the particular cruise you wish to sail on from the homepage click on 'I know the cruise I want' where if do not know the exact cruise yet and wish to browse based on your critera select 'Find a Cruise'.

I know the cruise I want
From the pop up select your chosen cruise line and ship then you will be able to choose your desired sailing from the departure dates drop down.
Find a Cruise
If you are currently still searching for your dream cruise you can use our search feature to narrow the results to see what is available. You can search by region (eg. Mediterranean), by departure month (eg. June 2021) and/or by cruise line (eg. P&O Cruises). After you click on 'view cruises' you can see the results of your search and use the filters to refine the results even further.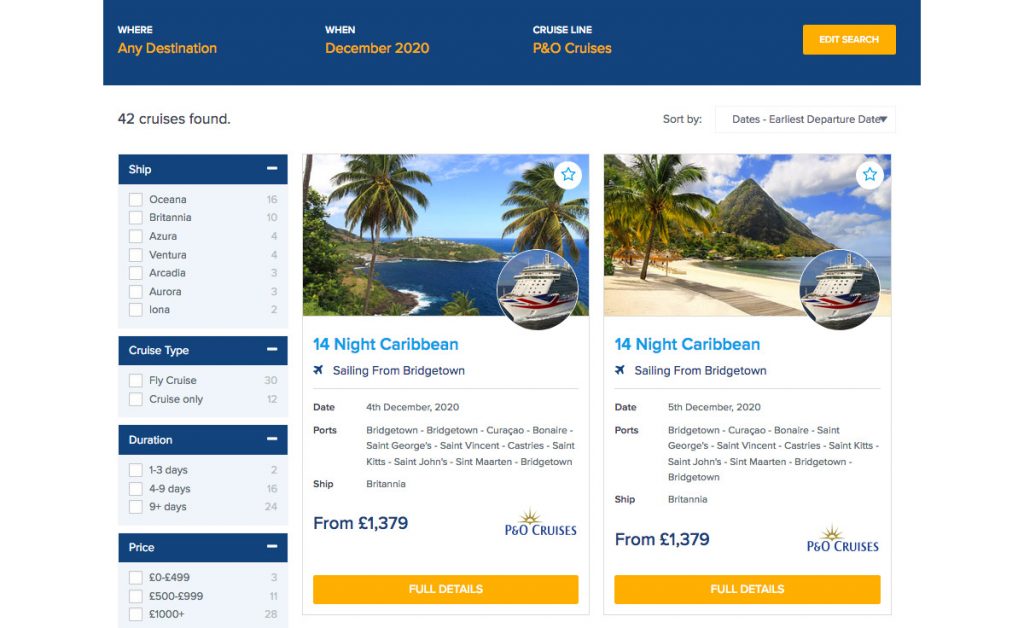 Get a Quote
Once you have selected your chosen cruise you are able to view itinerary details, ship information, what's included and cabin prices. The prices shown are the best savings we have sourced on this offer along with which Cruise Agent is offering the discount.

Please note that prices are fluid and can change so we always advise calling the top price Agent for an instant live price.
Ready to Book
Once you are ready to book simply click on enquire to find out the contact details of the top price Cruise Agent – you can then either call, email or request a callback at a time that suits you. After booking remember to enter our competition where you could win £2000 towards your cruise.